Join us for a virtual tour!
Join us for a virtual tour!
CLASS OF 2017
JOIN US
MAY 11 at 6pm
Reconnect & Reminisce!
CHAMPIONS
5 years
in a row!
Way to go
PANTHERS!
CONGRATULATIONS
GIRLS VARSITY SOCCER!

St. James Cathedral School
Academic Excellence and Spiritual Enrichment Since 1928
Located in the beautiful heart of downtown Orlando, Florida and just steps away from Lake Eola, St. James Cathedral School has been dedicated to academic excellence and educational ministry since 1928.
Founded on the philosophy "Come to Learn. Leave to Serve.", our Catholic education lineage has strengthened through generations that grow our alumni family every year. Accredited through the Florida Catholic Conference, our students from Pre-K through 8th Grade experience an education that goes beyond the typical classroom.
Students benefit from tailored teacher-to-student ratios that keep the classroom settings personable to cutting-edge technology and spiritual enrichment. All of which embraces a child-centered teaching and curriculum that encourages each student to experience, discover and evolve.
St. James Cathedral School is committed to helping every child realize their full academic and spiritual path and sets them on course. Our foundation is one that blends education, spiritual discovery and mentorship together in a safe and stimulating environment. Through a devoted and nurturing community, our students are prepared for later years in life, inspired by the love and stewardship of Jesus Christ.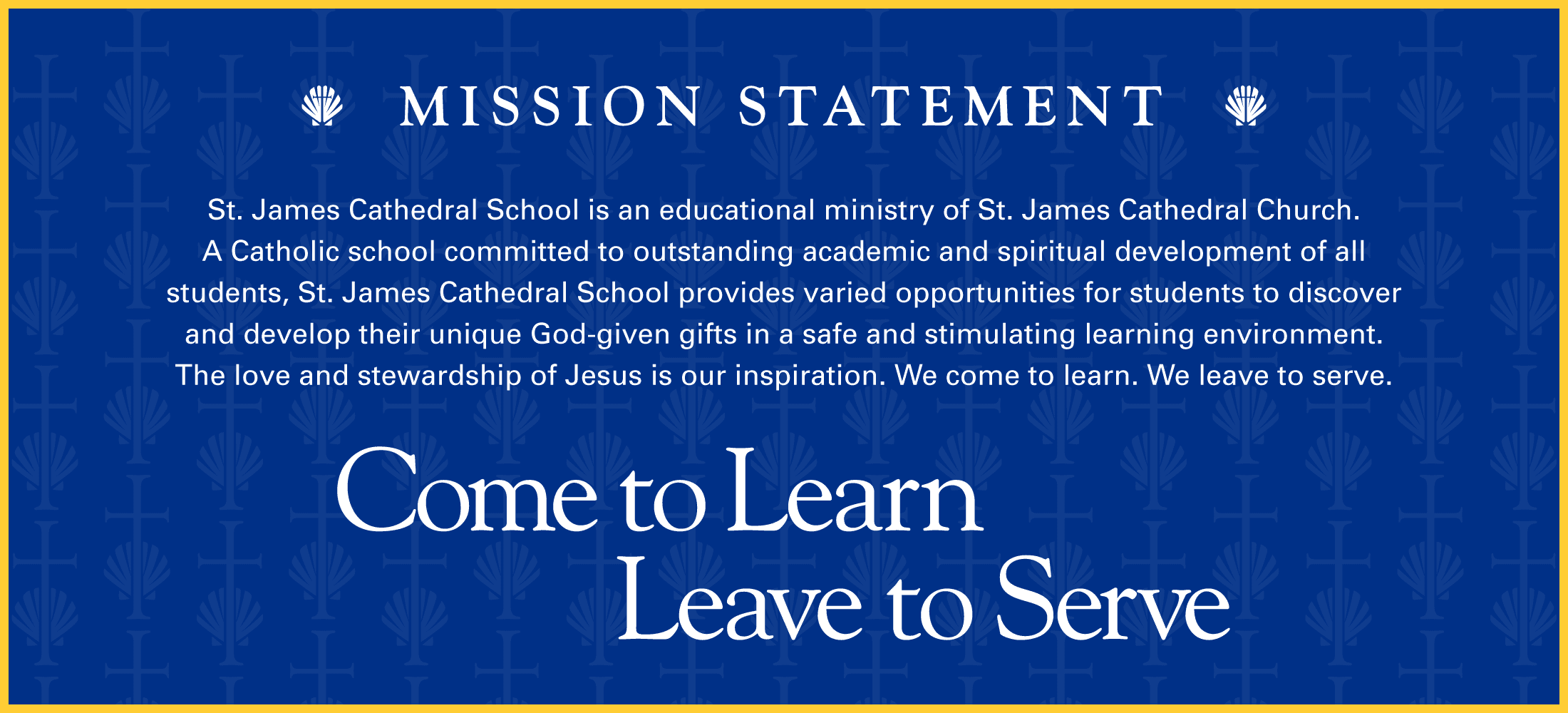 "St. James has taught me that learning at school isn't only learning how to solve that one equation, that one answer on the test, or that one project due the next day. Although the academics at St. James is full of excellent teachers and great lesson plans, the teachers at SJCS aren't here to teach me (just) academics, but also how to be a good Christian, and how to be active in my faith."
-Andres M., Class of 2021
"Every day I learn something new at St. James. I learn how to be kind to my family. I learn how to be a generous and compassionate friend to others."
-Katie C., Class of 2023
"The kindness of my teachers has taught me to stand up and be a leader to anybody in need of help. At my old schools, I didn't have the courage to stand up for myself, and I was a follower. I realized I had to change after spending time at St. James, so I began to lead by vowing to stand up for those who may not be able to defend themselves, just as Jesus would have done. I just think, "What Would Jesus Do?", and then I have my answer."
-Gabriella T. Class of 2022
"There is something about SJCS that has made me love going to school. St. James provides students with a pleasant environment in which I feel safe and welcomed by everyone. That is why I am so drawn to St. James and why I am going to miss the school when I graduate. SJCS has indeed become my home, and everyone in it is my family."
–Daniela M., Class of 2020
"St. James Cathedral School is a wonderful community where we "Come to Learn, Leave to Serve." The first reason we come to school is to learn. When we come to this school, we are taught to learn from our mistakes. We also learn to love and care for others. I have learned to never give up."
–Marie C., Class of 2025

Panther Families- you can find the most current version of our Re-Opening Plan on our website at https://t.co/5AjV9dbUMq. https://t.co/VFxgrua57f