School Advisory Board
The School Advisory Board is a consultative body to the Principal acting on behalf of the school community. As a volunteer-based group, the Board assists in reviewing policies formulated by the school Principal offering recommendations in the overall operation and functioning of the School. Board Members serve on one of 6 sub-committees: Finance, Facilities, Technology, Strategic Planning, Marketing & Advancement, and Nominations.
We welcome and encourage interested Panther parents to reach out to our board and apply to use your God-given gifts and talents to serve on one of the sub-committees. Please find details below.
2022-2023 SAB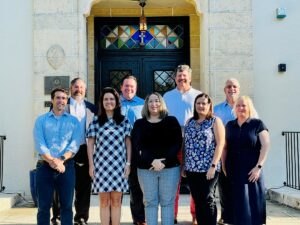 Front Row (left to right): Chad N., Danielle C., Jacqueline A., Shannon C., Debbie C./Back Row: David B.-President, Jon K., John S., Francisco M. *not pictured Kelli B., Kira G.