Panther Parent Association
St. James Cathedral School is proud to have such an involved and supportive Panther Parent Association (PPA). Many achievements coordinated by our Panther Parent Association have offset logistical and financial responsibilities that would otherwise be carried out by our school. The PPA's continued stewardship and contributions to St. James Cathedral School have a direct, positive impact on our students, school, parents, and community.
PPA Mission Statement-
The mission of the St James Cathedral School Panther Parent Association is to foster opportunities for our school community to grow in our relationship with Christ and each other through acts of service and volunteerism.
The purpose of this association shall be to promote the welfare of our children in the home, school, church, and community by supporting the parish priest, school administration, teachers, staff, and our school families. This will be accomplished through the coordination of activities that encourage active parent involvement, foster fellowship, and a strong sense of community. 
Your Spirited 2021-2022 PPA Executive Board: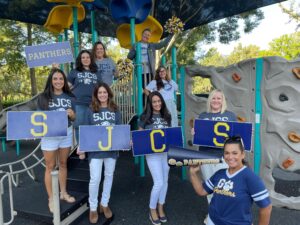 Megaphone=Alicia D./Letter S=Carolyn Y./Letter J=Lynley H./Letter C=Wendy T./Letter S=Debbie C./Up the Stairs (bottom to top)=Sarah P., Julie M., Siobhan P./Center= Heather B.
Please take a moment to view our committee options, and then click on the box below to sign-up to share your gifts and talents with our school!