11th Annual Dinner & Auction
When:       Saturday, March 2, 2019

Where:     St. James Cathedral School
Address:  505 E. Ridgewood St., Orlando FL
Time:        6:00pm

JOIN US FOR AN ELEGANT EVENING
Share in the memories that generations have created to make our school a sought-after academic and spiritual educational leader. Our 2019 Dinner & Auction fundraising event brings everyone together for an elegant evening under the stars as we celebrate our school and our community. 
ABOUT OUR FUNDRAISING EVENT
Last year's event was a huge success raising over $200K. These proceeds directly benefited our Tuition Assistance Fund, Technology Advancements, and our Athletics Program. Proceeds from our 2018 90th Anniversary Dinner & Auction fundraiser helped us complete our Playground Improvement projects and begin our Bathroom Renovations project as well as continue to help fund our Tuition Assistance Program.
Please consider a sponsorship opportunity this year.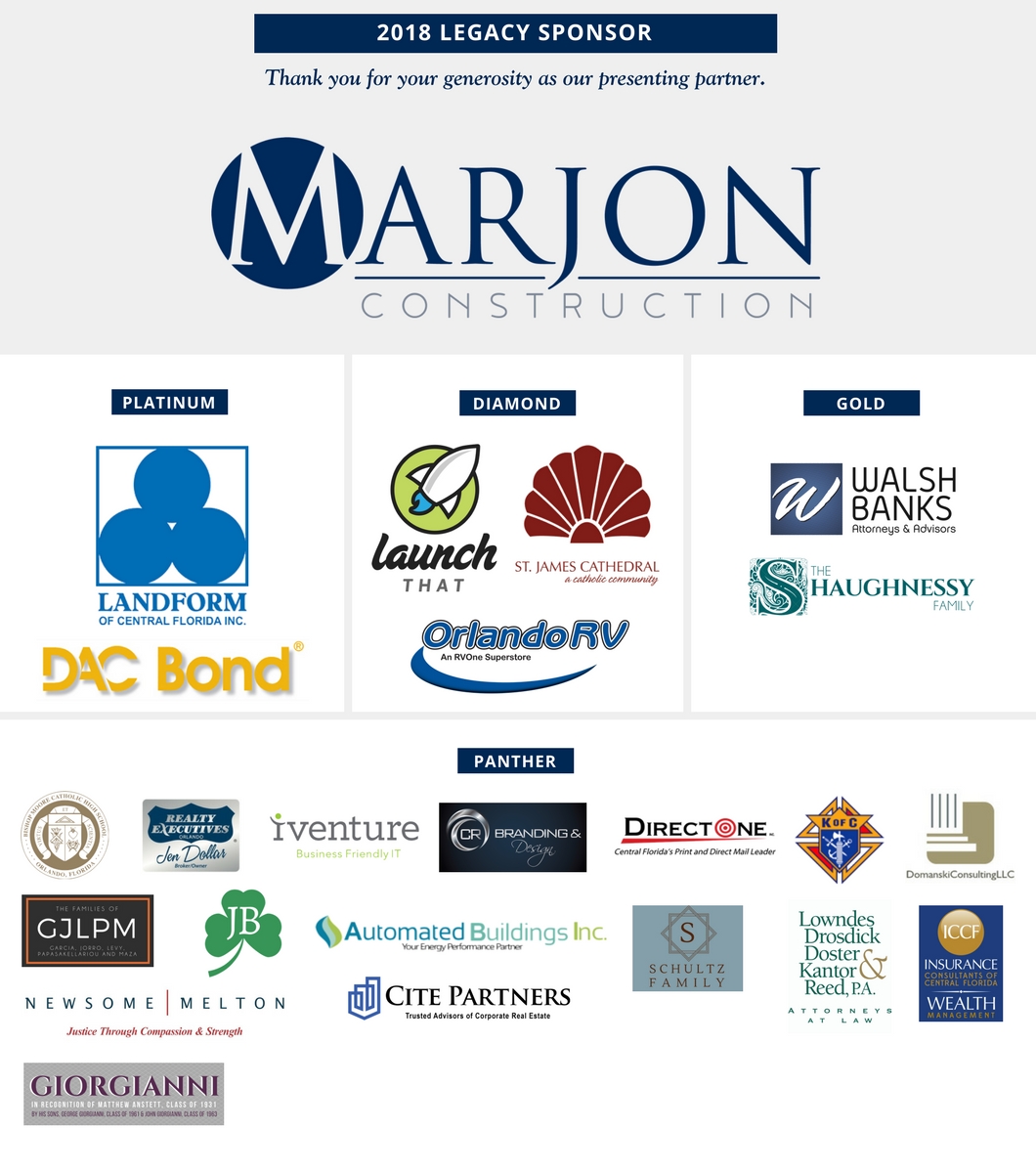 WAYS TO GET INVOLVED
In celebration of our 90th Anniversary this year, we have several amazing opportunities to get involved. Whether you are attending, donating, and/or sponsoring this year's event, your contribution matters and makes a difference in the lives of our students.
SPONSORSHIP & EVENT TICKETS
We have expanded our sponsorship portfolio to offer customized branding options for corporate and individual supporters. Each level provides an excellent level of brand exposure that fits your organization's needs while helping us achieve our goal to raise money for bathroom renovations and playground improvement projects. Sponsorships are limited and available on a first come, first served basis. CLICK HERE to download the full Sponsor Prospectus.
GIFT -A-TEACHER
As a special tribute to the many wonderful teachers who make an impact on our children's lives, we ask that you consider a donation toward the event ticket for a St. James teacher. Suggested monetary donations are $25, $50, $100 or allow your heart to guide you. Thank you in advance for this generous consideration.
DONATIONS
A significant part of our fundraising success is our silent and live auction. We are grateful for the donors who have contributed items for each segment of our Dinner & Auction event. We hope you will consider helping us this year. For questions, contact Ana Crowe, Director of Advancement at ana.crowe@stjcs.com or call (407) 841-4432 x 151. To donate, click the "Donate Now" button below.
VOLUNTEER
Our Dinner & Auction event is guided by Co-chairs Jeanette Apelado and Laura Haag along with Ana Crowe, Director of Advancement and the many volunteers who make this evening a success.  For more information on how to get involved, please contact dinnerauction@stjcs.com.
PAYMENT OPTIONS
Sponsorships can be paid online or by check. However, all registrations (sponsors and attendees) must be completed through our online registration portal. Sponsors electing to pay by check must be paid in full no later than February 1st, 2018. Make checks payable to St. James Cathedral School (ATTN: Ana Crowe) and mail them or deliver them to: 505 E. Ridgewood St., Orlando, FL 32803.
NOTE: Individual ticket purchases made after February 1, 2018, will be available for $125/ea.
Ticket sales end on February 25, 2018. Elegant attire suggested.
THANK YOU TO OUR 2017 SPONSORS!
WE WOULD BE BLESSED TO HAVE YOU JOIN US AGAIN THIS YEAR!