Drama Program
Student Theatre Performances
The St. James Cathedral School Drama Program is a three-part program. Our Drama Teacher, Christi Willard, teaches drama to all our students from pre-K through 8th grade.  Our Kindergarten through 5th grade students all perform in-school plays directed by Ms. Willard as part of their curriculum.
Middle School students are able to select Jr. Thespian as an elective class which allows them to compete with Jr. Thespians at the District and State Level.  Our Jr. Thespian Troupe is sponsored by Ms. Willard.
Finally, Middle School students are able to participate in our After School Drama Program. The After School Drama Program presents fully-staged musical productions each Fall and Spring. This year's productions will be Rodgers & Hammerstein's CINDERELLA (November 16 & 17) and Seussical Jr. (April 19 & 20). CINDERELLA is presented through special arrangement with R & H Theatricals: www.rnh.com.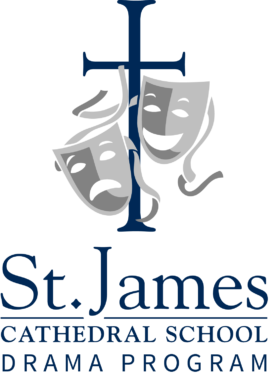 "Have courage and be kind. Where there is kindness there is goodness, and where there is goodness there is magic." – Cinderella
You can help our students continue exploring their passion for Performing Arts while encouraging the cast and crew and showcasing your business, club or organization by sponsoring an ad or personal message in our SJCS Playbill. All proceeds benefit the SJCS Drama Program.
You can order an ad or personal message online by following the link below:
Past Performances
Take time to explore the gallery of photos from our past performances. Our sincere "thank you" to the cast members, volunteers, sponsors, and more who have made it their purpose to help us bring life to the stage in every performance. We appreciate you!